I tried to remember what I did until I got to be oversea residence
April 1, 2013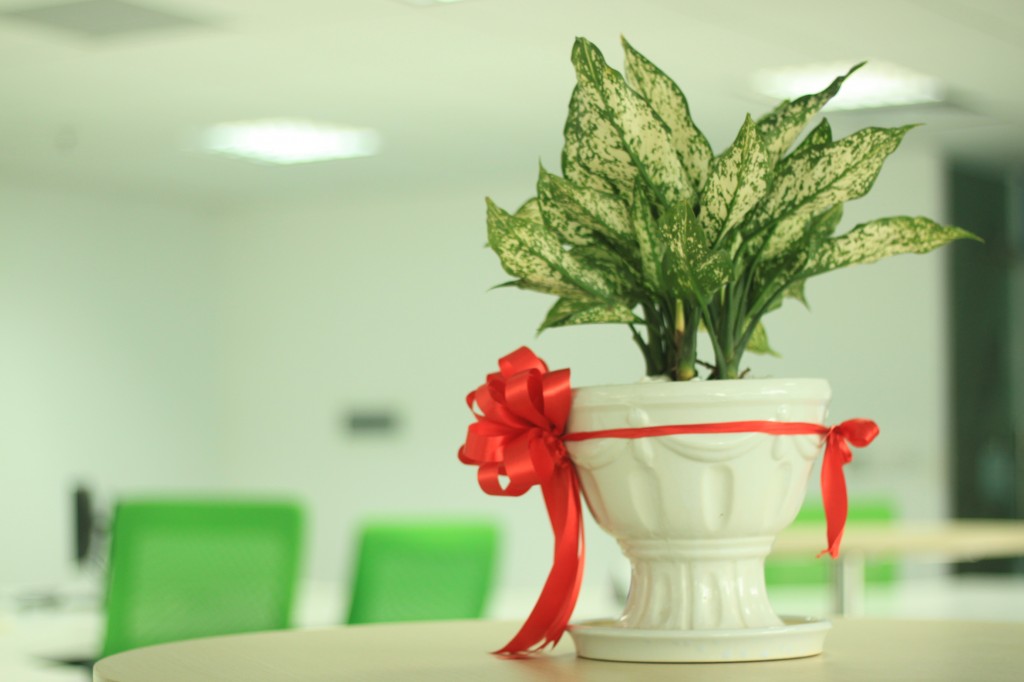 Xin chao… orz
I'm @kakeyang who has decreased tensioning a lot because our 0ffice has been leaking due to heavy rain the last night.
I'm not convinced that Vietnamese building owner is not willing to fix leaky because it's not rare to leak in Vietnam.
This photo shows the plant that my friend gave to us for moving to the new office. But he has to go back to Japan in April and I feel that April is the season of meeting and farewell.
I suddenly remember that I prepared for lots of things to move to Vietnam just one year ago and I write what I did then below.
I would be very glad if it could be helpful for business persons who plan to station in foreign countries.
List up what to do
I started from the level of zero first.
The other members in our company was also like that because SEPTENI group had just started overseas expansion.
I think the most important thing was to consider of them by my own brain and act by myself because it' me to station in foreign country.
List up all tasks of both official ones and private ones.
Put milestones first.
Draw a schedule with calculation back from milestones.
Decide the date to move for the time being. Act for it.
Listen to the other members who plan to be overseas assignments
There were the other members who plan to be overseas assignments at the same period fortunately and they had already acted sooner than me. So I talked to them like 'I know NOTHING what I have to do honestly! Tell me EVERYTHING!'.
This was the first time that we met and talked each other about it at lunch despite I hadn't ever worked together.
It was really lucky because they had lots of knowledge and shared them with me honestly.
Made situation to be able to share information each other first.
Asked what is the most important issues that I have to research in local.
Asked how should I advance the contract with local brains.
Asked how should I cooperate with relevant departments.
Pre-inspection on site
I had lots of things that I couldn't know without going to Vietnam.
I list up what I did then below when I researched twice before I started to stay.
Made contracts with local brains.
Confirmed how to recruit.
Confirmed development environment and project management method on site.
Researched outside environment such as public security/ transportation/ Life Infrastructure / nearby companies
Build personal connections on site (Looked for Japanese business persons first)
It was very fortunate for me that lots of people could support me in several region.
Visa application
I must obtain visa just before I move to Hanoi.
We can't obtain working visa (work permission) without building native company in Vietnam. We hadn't started it then so I had to obtain multi visa for 3 month.
You can obtain multi visa with them below for about 1 hour.
Tokyo: Embassy of Vietnam in Japan
50-11 Moto Yoyogi, Shibuya-ku, Tokyo (Odakyu Line Yoyogi-Hachiman Station)
TEL: (+81)-3-3466-3311/4
What to take
Passport with residual maturity more than 3 months
VISA APPLICATION (Embassy put it)
One photo (4cm x 3cm * you can choose either black and white or color)
16,500 JPY
Vacate the Japanese residence
Contact to estate at least before 1 month.
Call to companies of gas / water / electricity / internet provider.
Change registered address to them above.
 I didn't need notification of moving out and change of address of passport in my case.
Greetings to those who helped me
Because I don't know when I can meet them next.
Family
Old friends
Collegues
Extra: what I thought I should do
Go to the dentist (I don't want to go to the hospital as possible because of insanitation)
Learn much about Japanese history in order to explain it to foreign people in detail.
Improve listening skill in English in order do watch movies.
Join lots of kind of study events related to IT.
This is the link to the issue in Japanese.
I plan to write issues about offshore development in detail next.